There are so many details that go into selecting the right towels: construction, size, weight, density, fabrication, bath decor, personal preferences — and then there are all the beautiful colors and design details. From our customer-favorite Signature Towels to soothing spa-worthy styles, here's a guide to help you choose the best towels for you, your family, and guests.
Selecting the right sizes
Our standard bath towels are around 30" x 54". Bath sheets are slightly larger (36" x 70") to offer more wrap-yourself-up coverage. Hand towels tend to be 16" x 30" and face cloths are 12" x 12". Measurements may vary by style or design. As you build sets, think about what components you and your family prefer to use.
(Please note that we've used the size of our Signature Towel as the standard.)
Weighing all the weight options
Grams per square meter (GSM) measures towel density. Thicker doesn't always mean better. Thinner towels with a < 500 GSM tend to dry more quickly and drape differently. Our denser towels that have 600–700 GSM tend to be luxuriously plush and absorbent. It's all about your personal preferences.
Here's how our towel assortment stacks up:
EVERYDAY LUXURIES
For color and plushness, the Signature Towel is a top pick. It has been an essential in our bath collection since 1999. It's 100% Egyptian cotton for durability and luxuriously thick and absorbent at 600gsm. This towel is offered in a wide range of colors to effortlessly coordinate with the other elements in our bath collection, from bath rugs to shower curtains. It's designed for daily use, and generously sized. Offered in bold colors and a whopping 36" x 70", the bath sheet size is ideal for the pool and beach.
---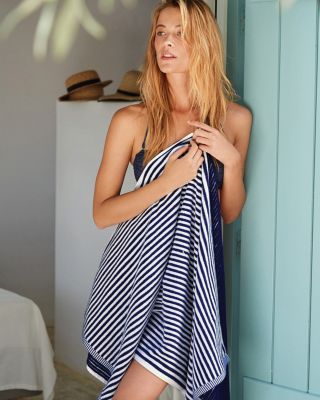 This towel is offered in a coordinating palette of stripes to mix and match with the Signature Towel to create a colorful bath. It has the same softness and sizing, made exclusively from Aegean cotton with a 650GSM weight. The stripes are created by contrasting yarn-dyed terry loops. These loops enhance the towel's depth, dimension, and plush texture.
---
THE ELEVATED ESSENTIAL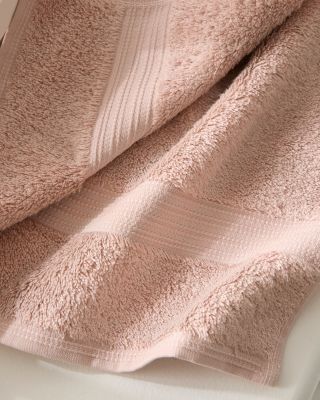 If you are looking for an elegant option with which to stock your main-bedroom suite or create luxurious accommodations for guests, we recommend this exquisite blend. This towel is 60% Egyptian cotton and 40% bamboo rayon, and it's our plushest at 700 GSM. The cotton lends superior absorbency, and the sustainable bamboo gives this design a silky touch and subtle sheen. It's offered in a sophisticated palette of quiet earth tones and a bath-sheet size that measures 40" x 70". Finished with dobby detailing for an elegant touch, it's simply a beautiful addition to any bath.
---
SOOTHING SPA INDULGENCES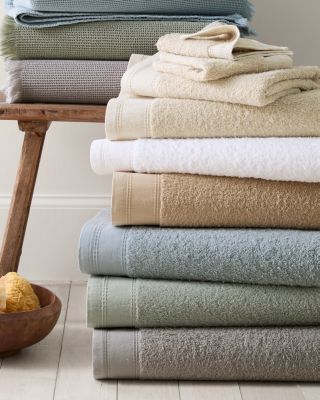 This towel offers the plushness of our Signature Towel (600 GSM), but it's made from a beautiful blend of 70% organic cotton and 30% responsibly sourced linen. The cotton offers softness and absorbency, while the linen adds a touch of rusticity. Its longer pile height creates luxurious texture, and it's finished with elegant dobby details. Offered in a soothing, sophisticated palette to coordinate with the Waffle-Weave Spa Towel so you can instantly transform any bath into a restful haven. Offered up to bath-towel size (30" x 56").
---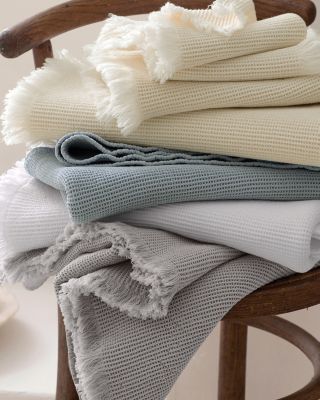 For a lightweight quick-drying spa towel (495 GSM) with an exfoliating texture, we recommend this waffle-weave towel made from 100% organic cotton. It's densely woven with refined mini-waffle patterning that provides stability, enhanced drape, and invigorating texture. It's thoughtfully detailed with delicate fringe ends and is offered in the same quiet palette as the Organic Cotton & Linen Spa Towel. Offered up to bath-towel size (27.6" x 57").
What towel is your favorite in the collection?
How would you mix, match, and coordinate these essential styles to your bath decor?
For more inspiration, visit our complete bath assortment.