An artisan-crafted rug finishes the room by adding artwork, texture, and color to the floor. At Garnet Hill, we curate our assortment of styles to help you complete your room, seeking the best artisan-crafted rugs we can find. The rugs in our collection reflect a variety of versatile fibers and construction techniques. Each rug is timeless and distinctive in style, and comfortable underfoot.

To make it easy to find the right rug for your room, here's a guide to the different types of rugs you'll find in our collection:
What fibers are best for your space?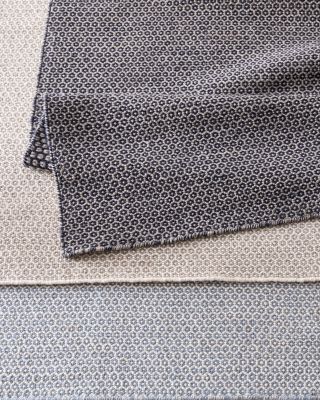 All the wonders of wool
Wool is a natural fiber and an excellent insulator. It instantly warms a space and is soft and cozy underfoot. Wool fibers are strong, durable, and naturally resistant to water, dirt, and stains, making wool rugs versatile choices for every room in your house, from entryways and living spaces to bedrooms. Please note: these rugs tend to shed their loose fibers over the first couple months of use. With foot traffic and regular vacuuming, the shedding will diminish.

Naturally beautiful: jute and linen fibers
Jute and linen rugs are popular picks in the collection because they're responsibly sourced fibers and add natural textures and tones to a space. These fibers are exceptionally durable, making jute and linen rugs excellent choices for high-traffic areas. Please note: because these fibers are biodegradable and tend to absorb moisture, you should avoid using them outdoors to prolong longevity.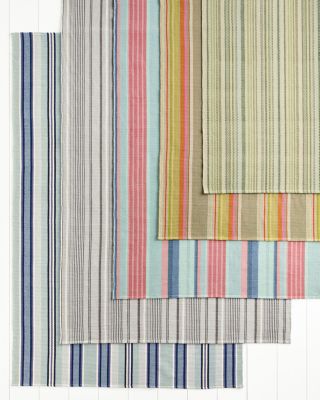 The versatility of cotton
Cotton designs tend to be lightweight and easy to wash, making this rug classification an excellent choice for many rooms and decors. From bedrooms and casual living spaces to kitchens, entryways, and baths, cotton is soft underfoot, dries quickly, and takes color beautifully. Cotton rugs are easy to layer and switch out with the seasons to keep your home looking fresh and new.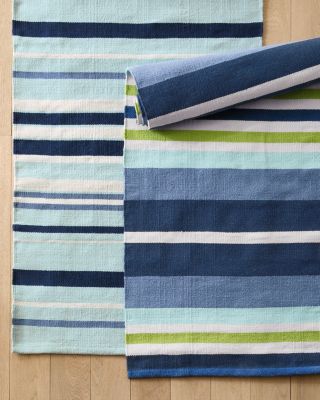 Durable, resistant PET fibers
PET stands for polyethylene terephthalate — it's a big name with some even bigger benefits. PET is a common thermoplastic polymer that's part of the polyester family. It's often a recycled fiber (think, reclaimed plastic soda bottles and similar plastic materials). PET is frequently used in the making of indoor-outdoor rug designs, because of its resistant to moisture, mildew, fading, and the elements. It's also lightweight and incredibly easy to clean — just wash with a gentle soap and hose it down.

---
What construction is right for you?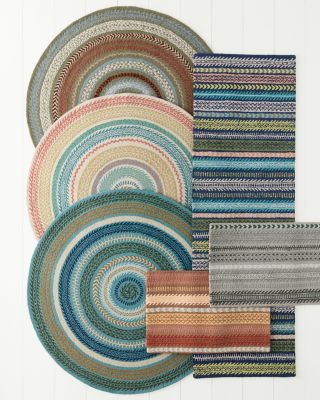 The beauty of a hand-hooked rug
Hooked rugs are durable, made by creating loops of wool or another fiber through cotton backing. This technique enhances the definition of the design's patterning to create beautiful artwork for the floor — and the hook-work is usually done by hand for the rugs in our collection.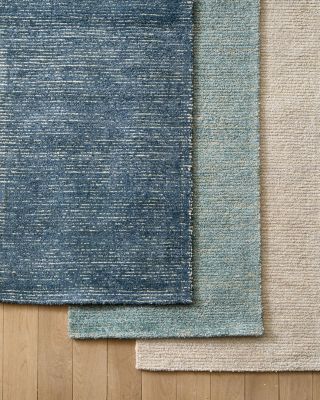 Soft and plush tufted rugs
Similar to hooked construction, a stencil of fabric is stretched over a frame. A tufting gun is then used to pass the loops of yarn back and forth to create the pattern and design. Once finished, the front loops are cut and/or shaved to create the pile. These rugs tend to be soft and plush. Like hooked rugs, most of our tufted rugs include a great deal of handcraftsmanship. 

Artfully hand-knotted rugs
These one-of-a-kind rugs are woven by hand on a special loom. Due the tighter weaving of the looming process, knotted rugs tend to have a flatter pile than tufted rugs. Knot density (or knots per square inch) determines by how intricate the rug pattern becomes. The more intricate the design, the more knots needed and the finer the yarn used. Higher knot count typically indicates higher quality.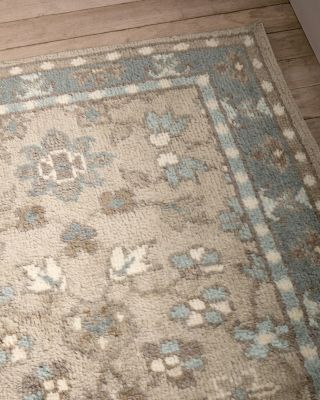 Handwoven and hand-loomed rugs
Very similar to handloomed textiles, rugs in this classification are woven on a loom. The loom holds the warp (the vertical threads) in place and allows the weft (the horizontal threads) to be interwoven. Using a pedal, a shuttle moves across the design to interlock each line. These rugs tend to be low to medium pile.
Flatweave rugs
Flatweaves are rugs constructed without the use of any knots. This gives them a very flat, low profile. Instead, the parallel running fibers that comprise the length of the rug (the warp) and those that run along the width (the weft) make up the whole surface. A dhurrie (also called dhurri, durrie, durry, or dari) is an Indian term for a handwoven rug or a thin flat carpet in the flatweave classification. Kilim styles are a variety of the flatweave family from Persia.
What are your favorite rug fibers and styles, and what rooms do you decorate with them? For decorating inspiration and more styles, explore or current selection of artisan rugs.