This guide to our bedding collection will help you find the right sheets for you. Flannel, percale, sateen, and relaxed linen continue to be popular picks, yet we also wanted to share a couple of recent additions to our home collection. Here are the fabrics that you need to know about when choosing new sheets to layer into your bedding ensemble:
1. FLANNEL FOR COZINESS ALL YEAR ROUND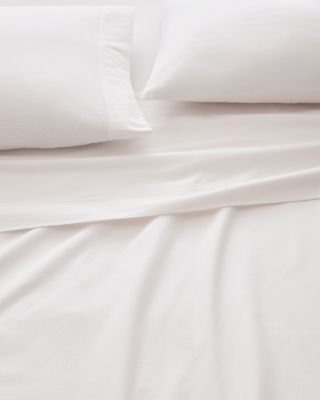 Garnet Hill was founded on quality European flannel. From the velvet touch of American-grown Supima® cotton and cozy organic cotton to the substantial hand of our Signature Collection, our flannel is brushed multiple times for an exquisitely soft hand that amps up the warmth and comfort any time of the year.
2. THE RISE OF THE RELAXED-LINEN COLLECTION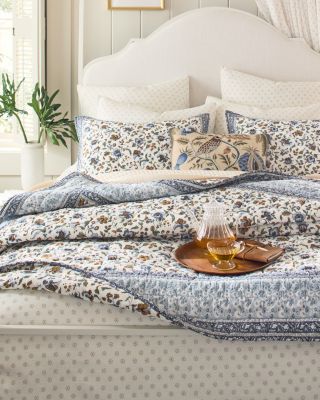 Soft, responsibly sourced, and naturally temperature regulating, our Relaxed-Linen Bedding is synonymous with all-season comfort and has become a customer favorite. This fabric woven in Portugal from premium European flax. Flax is a sustainable fiber of the Linum plant, and is treasured for its strength, texture, and breathability.
3. OUR CLASSIC COTTON PERCALE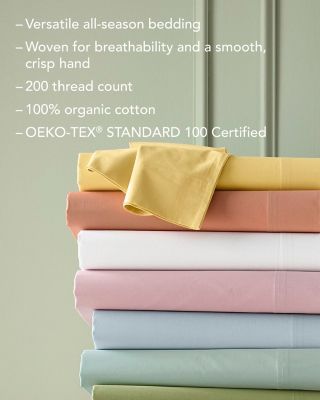 Using the finest cotton and organic cotton fibers, our traditional percale bedding tends to have 200–300 threads per inch and a crisp yet soft hand. Modern, with an heirloom look and feel, this fabric is reminiscent of the way sheets used to be made. Cool in warmer weather, while effortlessly layering with other bedding for year-round coziness.
4. THE ELEGANCE OF SILKY-SMOOTH SATEEN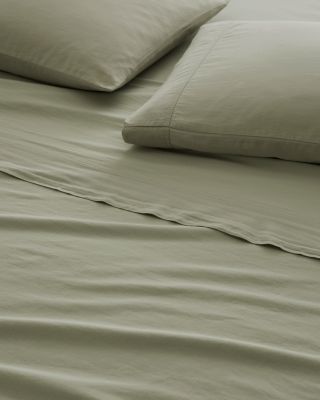 This luxurious, all-cotton bedding has a higher thread count than percale and is woven to give the fabric a subtle sheen and beautiful drape. Sateen bedding is an ideal choice for a main bedroom or guest-room accommodations. Our sateen collection offers styles in the finest American-grown extra-long-staple Supima® cotton. We even have styles in 100% cotton that are wrinkle-resistant to look great right out of the dryer.
Soft and substantial, this seasonless all-cotton bedding is actually knit (not woven) to give it the casual look and feel of your favorite T-shirt. Designed not to torque or twist, our Jersey-Knit Bedding drapes beautifully on the bed wash after wash.
6. NEW IN RESPONSIBLY SOURCED FIBERS
Beyond organic-cotton fibers that are farmed without harmful pesticides, GMOs, and chemical defoliants and our sustainable Relaxed-Linen Collection, we continue to seek and develop new responsibly sourced fabrics for our bedding. Some new sheeting fabrics that have been introduced to our bedding collection include, Hemp Chambray Bedding and Garment-Washed Organic-Cotton and TENCEL™ Bedding.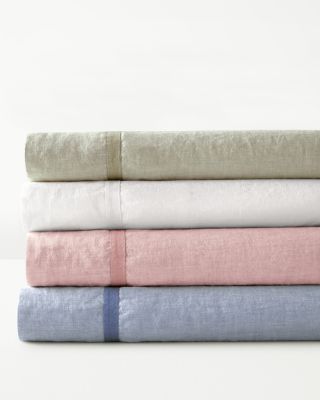 Hemp Chambray Bedding
Warm in the winter and cool in the summer, hemp is naturally breathable and is more absorbent than cotton. Hemp is a sustainable fiber that grows rapidly, doesn't need pesticides, and requires little water. It's such a strong fiber that it was originally used for industrial purposes, like canvas, sailcloth, sacks, rope, and paper — but we've taken extra care to balance its durability with exquisite softness.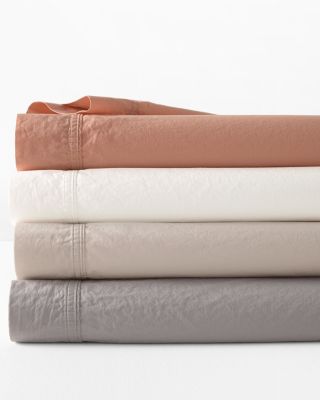 Garment-Washed Organic-Cotton and TENCEL™ Bedding
Delivering a relaxed, crinkled texture, exquisite softness, and beautiful drape, this bedding blend offers all the comfortable properties of cotton percale, but it's always just the right temperature and never cool when you first slip into it. TENCEL™ Lyocell fibers are made of natural cellulose derived from sustainably harvested wood pulp from renewable tree farms.
What's your favorite sheet fabric to sleep in? How will you dress your bed for the changing seasons? For distinctive styles in the fabrications above and additional layering pieces to make a cozy, comfortable, explore our current bedding collection.